SOMEONE!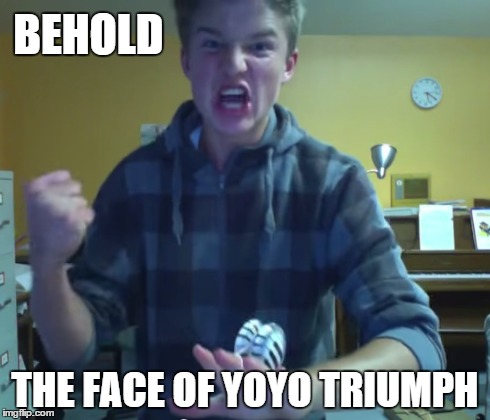 Congratulations, Someone! (YYE and I are gonna have to learn your name to send you your well-earned prizes.)
As you probably know, Logi bowed out of the 14th Round, primarily due to a lack of equipment that could handle 2-handed loops. In a way, it's anticlimactic for these guys to hit Snap-Start to Archery Flip, but have something like Loops decide it. In another way, it feels totally appropriate given the dichotomy that fixed axle represents. It's always split between the tricks of the past and of the future (and only able to be experienced in the present).
Someone killed this contest for its entire duration. Sometimes it seemed like he wasn't even challenged. My favorite rounds were the ones where he was.
http://www.youtube.com/watch?v=feXxcrwUTic
He had pretty much given up on this round. I love the shocked exhilaration on his face and his parents' hooting and yelling. You could tell he wanted to hit that trick with every fiber, and a lot of times it takes that.
I was totally amazed (I think a lot of people were) by the super-fast head-to-head Someone and Logi went through between rounds 11-14. It seemed like they were pushing each other, but also pushing ME to get harder tricks out faster. And these tricks weren't pushovers. They hit some gnarly stuff and sped right past some incredibly strong players in the process. The whole time I was thinking "Why aren't they waiting to the last minute to post their hits? It'd give them more chill-time and maybe psyche out the other player." But then I realized that they were posting immediately because they were stoked. They COULDN'T WAIT to post the insane combo they just hit or to see the next one. That made it clear we had the right guys in the final. I wish we could give prizes commensurate with the incredible amount of hours they (and a lot of players) poured into this, but yo-yoing is primarily its own reward  - which is good because it will save Andre and me a lot of $.
I know I ticked some people off with the decisions I made in running the contest. What yo-yo's would/wouldn't be allowed, tricks that were too tough or too easy, and then accelerating the pace were all subjects of contention and controversy, and I apologize if I messed up. I really wanted to create a contest that was fun and crazy-challenging and have the best possible players go the furthest. I do feel that happened. (Honestly, I'm still not sure what I'd have to do to get Someone out… Archery Varial???)
SINCERE THANKS to everyone who entered. It was inexpressibly fun to watch so many people trying (and nailing) these tricks. I know a lot of players really pushed their limits, and in the process took it farther than I thought it would go. I really hope that it got some to enjoy playing fixed more and made them want to come up with their own tricks. SINCEREST THANKS to YoYoExpert - to Andre and Garrett - for coming up with the idea and for giving me the perfect way to do it. Andre has been a huge support to me for years, and his tacit approval of fixed axle as a worthwhile style to try means the world.
Wishing everyone who tried this and anyone who followed along a great holiday weekend. Throw some fixed axle if you're not too burnt out.