The story of the Chronos begins years ago when Xela designed one of the most aggresive and special yoyos I'd ever seen: the ZeuS.
I owned all the X3 models to the date, but it was such an interesting concept and I was so excited about the possibility of geting one. I talked to Xela and he was really kind, and put one in my hands for free. In game it was superb, just like I wanted it to be, a yoyo to play daily for the rest of my life. Months after that, I bought another one to have a backup and feel safer.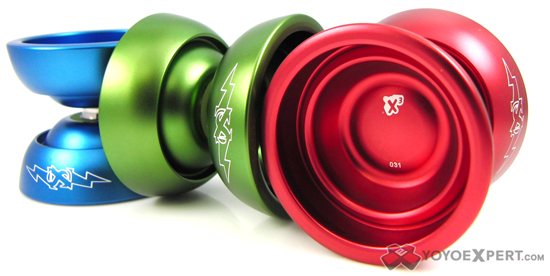 Since those days I've bought, traded and been gifted with over 200 different yoyos from more than 20 different brands. I've loved many of them and hated some, but at the end of the day the ZeuS was back into my bag. I've played most of the best alluminium yoyos, japanese high end bi-metals and many titanium jewels, but the ZeuS was the one that fits me better.
But being honest with myself, some of the new releases have a better performance than the "old greek god". So after finishing the Rogue with Dávid Féher, I met him at EYYC'16 and we talked for hours. I told him we should revise the ZeuS concept and try to make it even better. With recent bi-metal fever, there were a lot of yoyos coming from everywhere, and the ZeuS would be a nice canvas for us. He agreed, but we needed to talk to Xela first and I was fearing he wouldn't let us.
For our surprise Xela said yes, and even has been helping us with the project with his wisdom and experience. We wanted a lighter yoyo than the ZeuS, but with longer spin times and more stability. The idea was keeping it under 65 grams, and the only way to achieve it with big stainles steel rings was making it narrower. We kept the same diameter, aggressive profile, the undercut and hub. It was a real challenge to make it smooth, but from the first proto we knew it was going to be awesome. We only made a couple changes from first prototypes, and the yoyo went into production.
While they were being machined, we designed the branding, found a luxury jewelry box and got a cool engraving design from Dávid Benke. The idea was releasing only 3 colourways, one for each of us. Maybe you can't imagine it, but choosing a colourway is one of the most difficult things in the world. There are infinite combinations, but you need only one, the perfect one, and that means a lot. It took us some time to make that decission, but looking at the Tequila Sunrise, Bubble Bomb and Bloody Monday we think we made it good. Engraving was designed by David Benke, a hungarian guy friend of Feher. He listened to our request and found a good way to show what we were aiming. The result is clean and solid, as we wanted.
https://scontent-mad1-1.xx.fbcdn.net/v/t31.0-8/14691284_1224400557581977_7485844163296784724_o.jpg?oh=daa39150f611b60e32ced325faa5e377&oe=59162656
https://scontent-mad1-1.xx.fbcdn.net/v/t31.0-8/14560099_1224400554248644_8634373214990950641_o.jpg?oh=983785cc79baf15ffccd9fea30daf1f9&oe=59219C3D
https://scontent-mad1-1.xx.fbcdn.net/v/t31.0-8/14633164_1223267094361990_3797034276774174906_o.jpg?oh=f4747f0b0792ec8a888e70dbe3220d85&oe=59239816
https://scontent-mad1-1.xx.fbcdn.net/v/t31.0-8/14567519_1222554981099868_2304190881111021617_o.jpg?oh=9901e40e2fdb479bb83e9a57001bce2b&oe=59142D4B
We love the Chronos so much, and our main goal is to see it spinning in your hands, reading your feedbacks and watching your videos. For us it is a real honor to put in the market something like this, and wish some of you will love it at some point. Don't miss your chance, because the Chronos is a very special yoyo and probably there won't be another run. Now the ball is your court!
https://scontent-mad1-1.xx.fbcdn.net/v/t31.0-8/14711207_1228077210547645_6392782130063051064_o.jpg?oh=3ae288411faf7ddb7fedae26bd6852de&oe=58DC5F44
Alfredo Mascali.