Fifth Annual Mystery Box!
In 2010 YoYoExpert joined forces with YoYoFactory to bring the first ever YoYoFactory Mystery Box! Year after year this has been one of the most exciting and sought after releases on our site!
Check out some of the YouTube unboxing videos that popped up on YouTube HERE!
Best Mystery Box Yet:
We are confident that this FIFTH ANNUAL MYSTERY BOX RELEASE is going to be the best one yet! Plus a chance to win a GRAND PRIZE when you buy the standard Mystery Box!
Exclusive Boxes for 2014!
Special for this year we have TWO more 'limited' options (in addition to the standard Mystery Box)!
The Premium & Collector's Edition feature some really neat stuff – but will be HARD to get – there are not many to go around!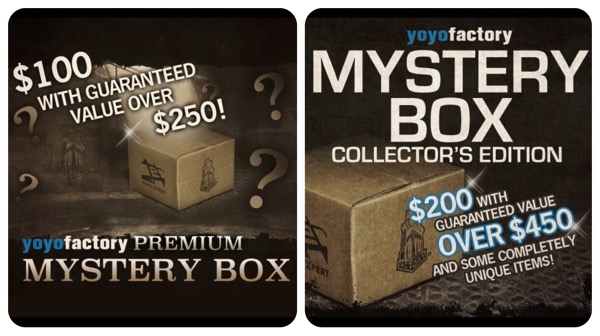 How do you score one?!
Starting Monday November 24th (Thanksgiving Week) YoYoExpert will make one announcements each day Monday through Wednesday. (Three Releases in Total!)
Once the announcement is made – a countdown begins to release!
When the countdown ends this will be your chance to grab a Mystery Box!
Make sure you are ahead of the game by following or subscribing to us in advance as announcements will be made in the following order!
Release Schedule:
Monday – 1st Release – Announced on Social Media – Facebook, Twitter, Instagram
Tuesday – 2nd Release – Announced via YoYoExpert Email Newsletter
Wednesday – 3rd Release – Announced via YoYoExpert Forums (Post & PM!)
Check back each morning where we will announce 'Time Windows' to watch – announcements are then made 'at random' during those time intervals and will be followed by short countdowns to the various releases of this years Mystery Box!
Shipping Information:
ALL Mystery Box ship FRIDAY NOVEMBER 28TH regardless of purchase date. Maximum of Two Per Person!
Let the 2014 YoYoFactory Mystery Box 'Week' begin!!!