We're holding a guessing contest to make the World Yo-Yo Contest a little more interesting this year. Instead of guessing who wins, we want you to guess which yo-yos the top 3 competitors in the 1A division will use in their freestyle!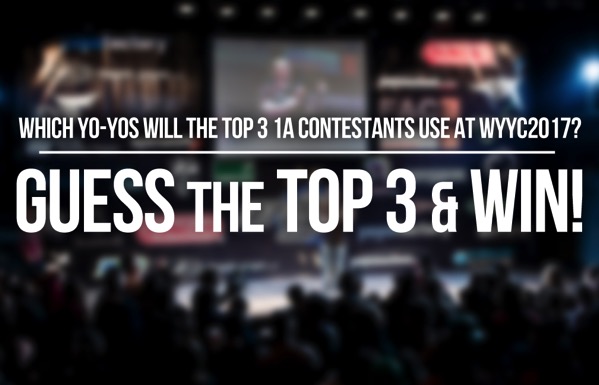 The Rules:
- 1 Entry per person
Any comment made after your first guess will be ignored.
- Post your guess in this format:
1st: yoyo name here
2nd: yoyo name here
3rd: yoyo name here
- You must get all yo-yos correct and in the correct order!
Only guess yo-yo names. No need for color or anything else.
- First come first serve.
If multiple people guess correctly then the first correct guess wins, then 2nd, and 3rd. Don't wait too long!
- Guesses made outside of the official forum post will not count.
We're holding this contest on the YoYoExpert forums, guesses made elsewhere on social media will not be taken into consideration.
The Prizes:
 [b]1st Place:[/b] WIN [b]ALL 3[/b] of the Winning Yo-Yos!!!

 [b]2nd Place:[/b] Pick 1 Yo-Yo from the Top 3!

 [b]3rd Place:[/b] WIN a $50 YoyoExpert Gift Certificate!

Submit your entry below. All Entries must be submitted prior to the start of 1A Finals!
Have Fun & Good Luck!