Let me clarify 'beginner' I've had most of the beginner and intermediate tricks mastered since I was 12 about 20 years ago. Since then, though yo-yo was sort of just something I did occasionally to pass the time with a Duncan Imperial or something cheap and easily acquirable when I'd have to be somewhere boring (I grew up, went to school and was first employed in the Ohio Valley).
Anyway, I digress. I've picked up the hobby again seriously, and I'm trying to progress quickly. Wanted to build up a collection of new, non-responsive throws, found Magicyoyo and saw some good reviews on YouTube. Here's my perspective on what I've picked up.
MagicYoyo N8 Dare to do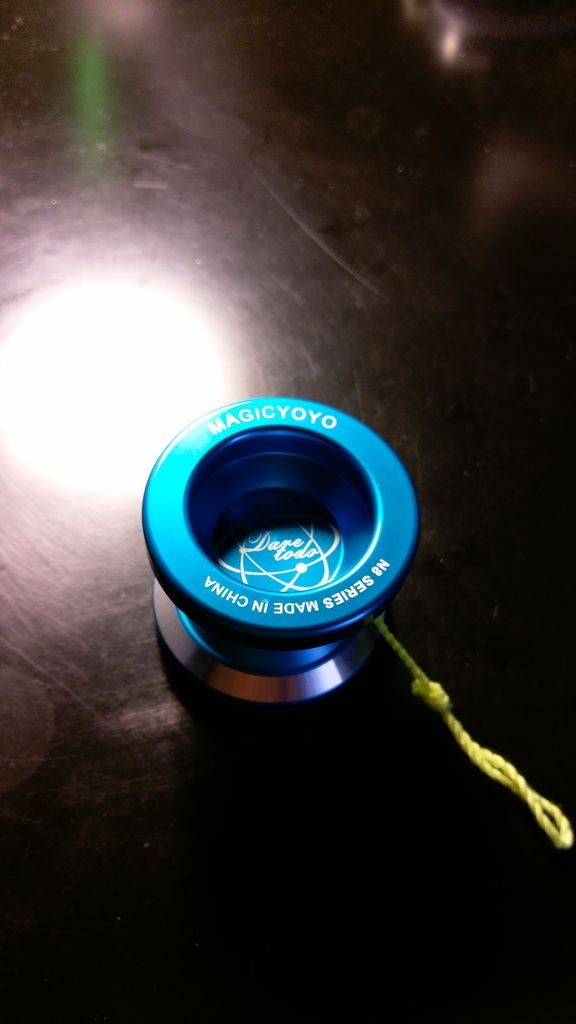 Weight: 67.58 grams
Diameter: 55 mm
Width: 44 mm
Gap Width: 4.62 mm
Body Material: Aluminum
So, for starters, this yo-yo is small. Smaller than a YYF DV888. Probably designed for children or at least adults with really small hands. That being said, most of the weight is in the rims and it performs very well. Its been particularly good for really intricate tricks where strings are all bound up tight. Its got a pretty wide gap, so its easy to catch on the string and it spins forever.
It throws smooth with absolutely no vibration. The bearing is every bit as good, if not better than the bearings in my YYF OneStar and Replay Pro. Its machined well and mine is flawless (until I screw up and bounce it off of pavement or something).
Basically, if you're in to undersized throws and want something cheap to carry around with you that will feel not cheap, for $12 this is a pretty solid choice.
MagicYoyo K8 Leopard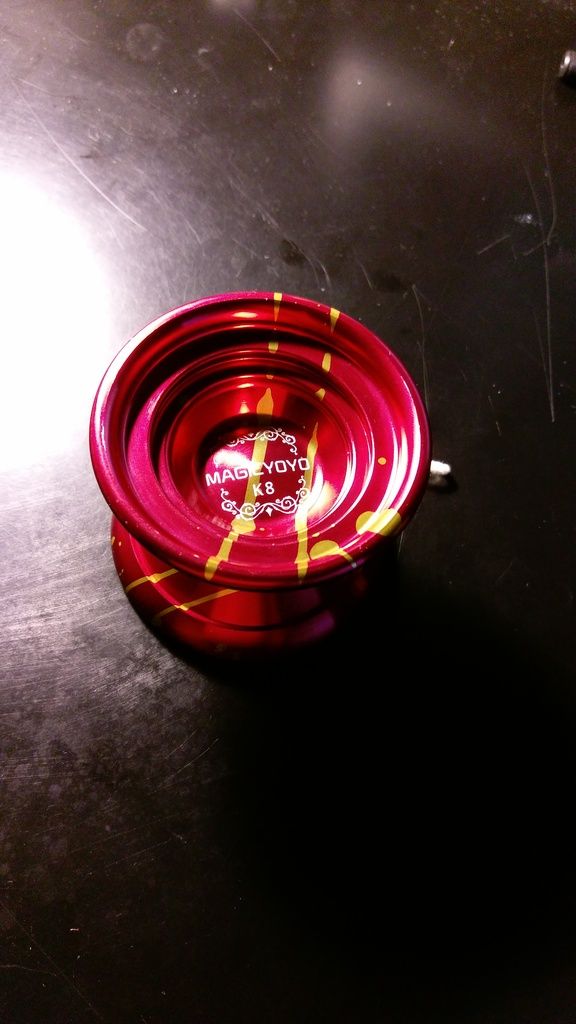 Weight: 67.1g
Diameter: 59.5mm
Width: 44.7mm
Gap Width: 4.5mm
So, this yo-yo is big. Really big. I had to take the stupid plastic thingies out because they made it play like crap. It in fact played like crap out of the box and was dusty. I assume this is one of the ones from 2008 or whenever they were released, because it had a nice film of dust on it. I took it apart and cleaned it, not expecting much. I was wrong.
Like the N8, smooth as could be. Mine is particularly quiet and its wideness combined with its super rim-weightedness makes it super easy to catch on the string. It doesn't spin as long as the K8 and I had a hard time moving from one trick to the next. I'm kind of fumbly, though, so it may have just been me not being used to playing with such a big throw.
While this isn't my favorite, its certainly good if you like big yo-yos. I think I paid $15 for this and I really like the red and gold splash. This one came with a few dings upon close inspection, but nothing I was too concerned about.
MagicYoyo T5 Overlord
Weight:67.8g
Diameter:54.00mm
Width:40.00mm
Gap Width:4.72mm
This throw is slightly on the small size. Still bigger than a DV888 slightly. Feels really comfortable and seems designed to just put in your pocket and take with you. It performs amazingly. Smooth as could be. Really comfortable shape. Takes everything you can throw at it. Its kind of my go-to for new tricks as a gauge of whether I need something smaller or something bigger to make landing the trick possible. It usually just handles it, no problem.
I kind of want it in all the colors because its $9 and amazing. Mine showed up in perfect condition. Smooth as heck. Machined perfectly. It looks and feels great. If I was a kid or had a kid looking to get into unresponsive yo-yos, this is the yo-yo I would buy if I was just going to buy 1. I can't say enough good things about it.
The T5 certainly hits a lot of the right buttons for me. It can feel a little small at times, but I have stupid sausage fingers, so that's not really the yo-yos fault. The weight could be distributed to the rims a little better, but a lot of that is just my inexperience. Great throw.
MagicYoyo N9 Floating Cloud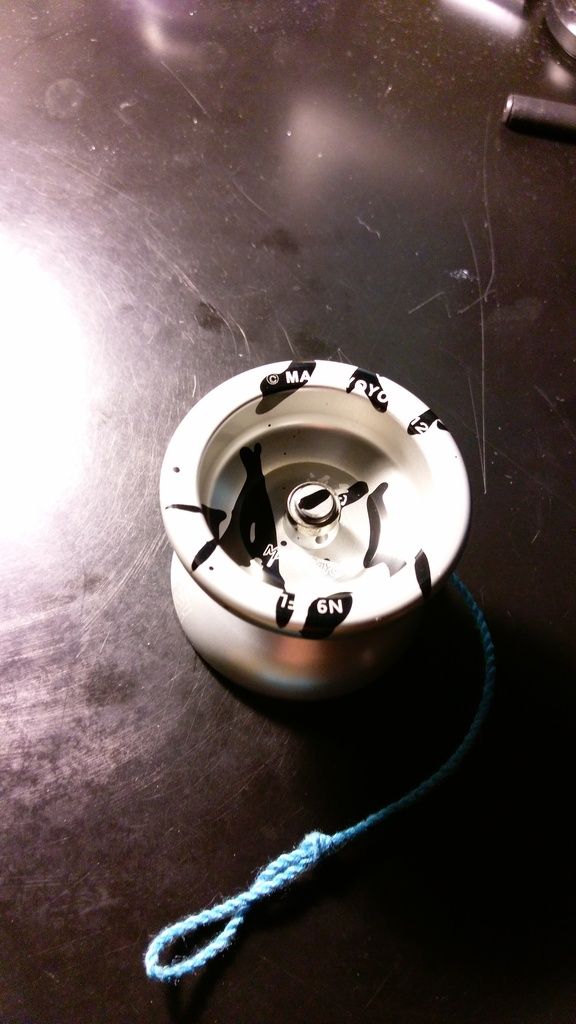 Weight:68g
Diameter:53mm
Width:40.4mm
Gap Width:4.72mm
The N9 is very similar to the T5 except a little more rounded and heavier. It comes with Z Stacks which are fun to play with and the splash colors look amazing. This yo-yo is smoother than the T5, at least mine is. It does feel like it "floats" a little, which is cool. Its slightly bigger and rounder than the T5, but otherwise very similar in shape.
This yo-yo is probably tied with the N12 for my favorite MagicYoyo that I own. Its good for every trick I've tried. Its great to hone them in. Its small and fits in your pocket nice, but not too small. I just can't say enough good things about it. The colors are fun, too.
I guess the only down side is that its maybe a little heavy for younger kids. Probably not something I'd give to a brand new player of 8 years old, but basically anyone who isn't a small child should feel extremely comfortable throwing this yo-yo. I've had mine about a week and its been a huge help to my progression.
MagicYoyo N11 Weight Ring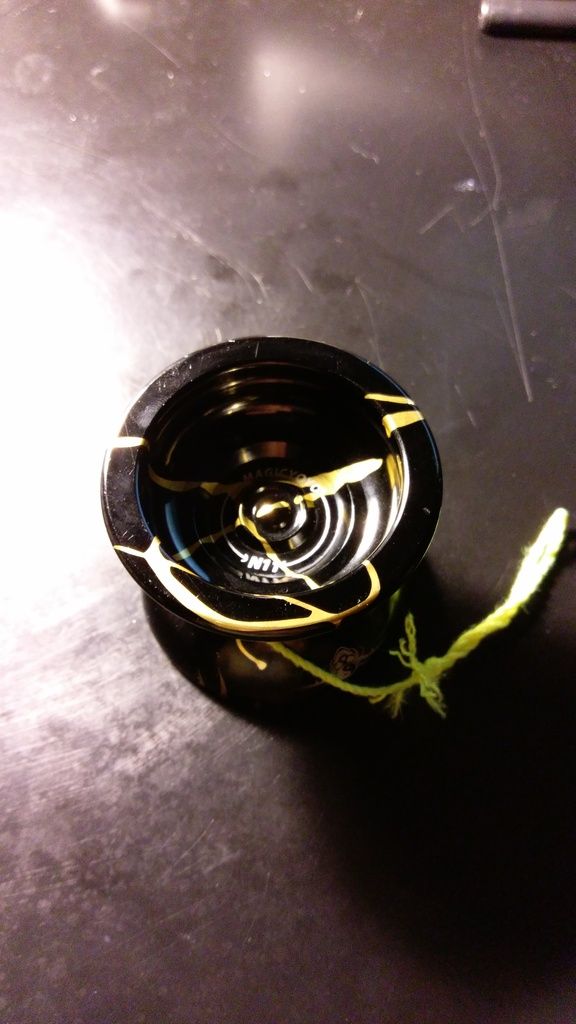 Weight:64.7g
Diameter:54mm
Width:42mm
Gap Width:4.62mm
This is my second favorite MagicYoyo (the N9 and N12 are tied for #1). Its very rounded and the weight is distributed a little more evenly in the rims. Its a little lighter, but doesn't really feel that way. Playing with it seems rather effortless. It kind of floats like the N9, but the gap is bigger like the N8, so its easy to catch on the string. It flows from trick to trick very well and spins a REALLY long time. The shape is incredibly comfortable
It comes with silicone rim weights, but I prefer to play without them. They're great to push more weight to the outer rim rather than distributed the way it is, but I've found that I can play better without them, at least for the time being. The colors look amazing. Being from Pittsburgh, black and gold was a must-have and this throw just looks killer.
There's really no downside to this yo-yo. I like everything about it. This is probably my most difficult throw to bind, but its not that bad. I'm pretty new to binds, too, so I'm sure someone who's been doing this awhile won't have any issues. At $14 its a steal.
MagicYoyo N12 Shark Honor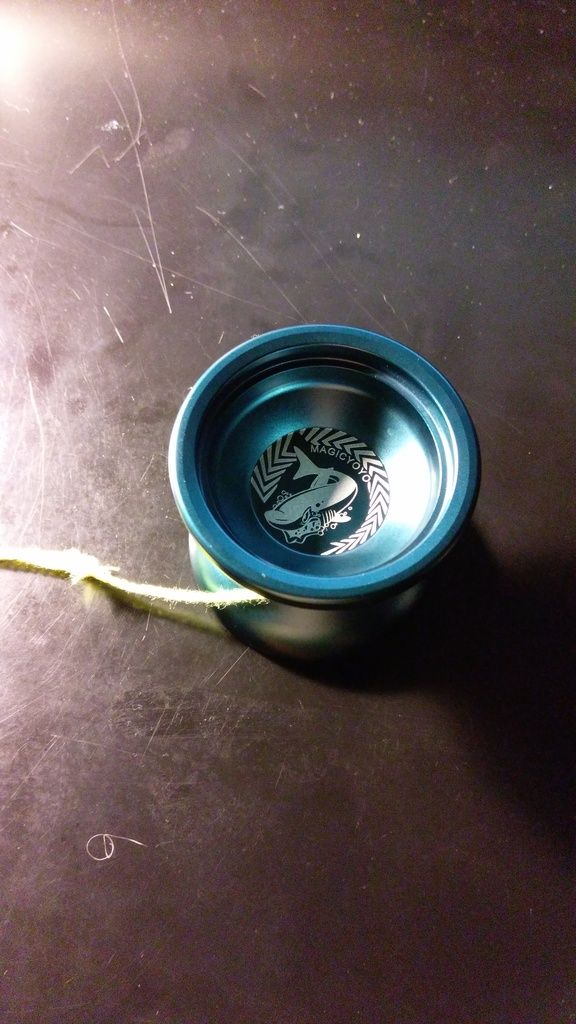 Weight:67.58g
Diameter:55mm
Width:44mm
Gap Width:4.62mm
Someone on this forum had said to me something to the tune of "nicer yo-yos are more forgiving" that couldn't be more correct than with this throw. Tricks I've had a hard time landing consistently on other throws seem to be easy on this one. Its smooth as heck, and the nice satin finish grinds really nice. The size is perfect. Its not too big, not too small. The weight is similar to the N9, but its a little bigger, so easier to catch the string. Its a little less round, like a cross between the T5 and the N9 and while the weight is distributed nicely, it seems mostly rim weighted and the design is just right.
The dark blue is stunning in person. I decided not to get the splash finish on this one, and I'm not disappointed. This throw looks great. There's no dings or anything out of the box and the spin time is closer to forever.
There's practically no downsides to this yo-yo. For the $18 that I paid for it, its forgiving, its a great size, it came with a bag and extra strings, its perfect. I know other guys have done reviews on this throw, but if you don't have this in your collection, you should.
Epitaph:
I've been overly impressed with the MagicYoyo brand as a whole. Even those who have disliked them seem to be coming around and they're starting to build a decent roster of players. Their recent collaborations have me intrigued and the budget-friendlyness of the throws means I can kinda get them whenever.
I hope my thoughts help someone either to purchase for themselves or for a loved one. Getting more yo-yos in more peoples hands can only be a good thing.