.
Clearing out some yoyo's… [color=red]For Sale OR For Trade! MAKE OFFERS!![/color]
MY WANT LIST at the BOTTOM!
**My first Baby is HERE ;D clear out… Time to part with some of the yoyo's that don't get enough love
-Prefer to sale! But always somewhat interest in trades… Make an offer! Yoyo's I am looking for is down below
All prices include shipping within the USA, international shipping is extra!
WHAT I HAVE: Let me know if you need more pictures… PM works best!
YYF Regen - White delrin goodness! Like new with box! ($39 Shipped!)

Tom Kuhn Sleep Machine with TK Gap adjustment tool! - San Francisco Era TK! Has marks from previous original owner who bought this in SF in 1992 ($50 Shipped!)

Tom Kuhn RD1 - Black "Ebonized" like new, with box! ($30 Shipped!)
I will make you a GREAT deal if you buy them ALL!!!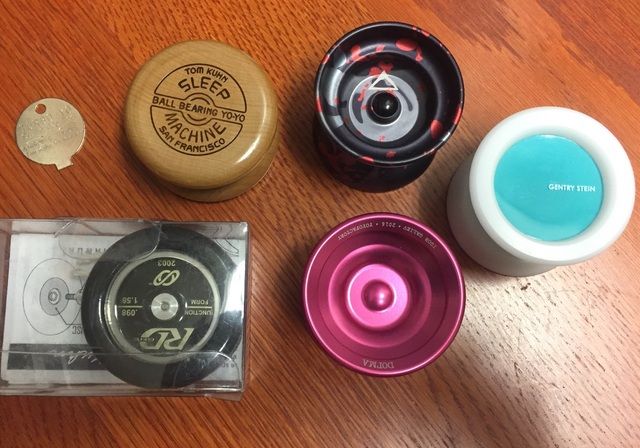 WANTS:
- PayPal…$$$
[b] - Anti Yo - YWET, DRI-YWET, Bapezilla, Bape, Eetsit, etc
CoreCo TAKO

in the UNKNOWN flavor please![/b] Or show me what you have.
Masamini
One Drop's… What do you have?

Parlay*,

Projects, etc
CLYW in Northern Lights OR SharkVSZombie Beaver colorway!
66% yoyo's
YoYoWorkshop - Vonboom*
EH's… SPYY/TMBR Wooded EH's!!
YYF Heist
Unspoken Paradox
Executive Yo - Gruntbull swirled**

Gruntbull swirled anything!!

SHOW ME WHAT YOU'VE GOT…

MAKE OFFERS!!
- SOLD/TRADED/GONE -
- YYR Draupnir - Gloss black,Like new, with box… super smooth! SOLD ($220)
- Tom Kuhn RD1 - Natural glossy, like new, with box SOLD ($25)
- C3 Speedaholic - Clear, like new in the box! SOLD ($20)
- One Drop Burnside - Nickel plated, like new (common light scratches found on nickel) with box. SOLD ($85)
- CLYW Yeti 2.0 - Transparent "Coke bottle" green… Like new, with box! b[/b]
- YYF Too Hot - Dark blue with black specks, like new! b[/b]
- One Drop Cascade - rare "Zombie Storm" colorway, like new, with box! b[/b]
- YYF Dogma - Pink, like new, with box! b[/b]
.