SILENUS:
This latest version of the Silenus features a blasted body and polished ring, both machined from 7003 Aluminum, that gives it a really cool look! The Silenus offers a really comfortable shape in the hand that doesn't skimp on performance. It has a wide stepped profile with a huge catch zone for risky whips and plenty of rim weight to maximize stability and spin time. It has a maneuverable feel on the string and holds a spin through your longest combos. Weighing in at 67.5g its on the heavier side, but the Silenus has a really pleasant smooth feel on the string that makes you want to keep on throwing.
---
COLOSSUS 4:
The new shape with the classic weight distribution brings a new play style to this Colossus. It has a powerful spin with excellent stability even at low spin speeds. TopYo even remodeled the cup with a nice fingerspin area to give the latest Colossus an added style of play!
---
QUANTUM: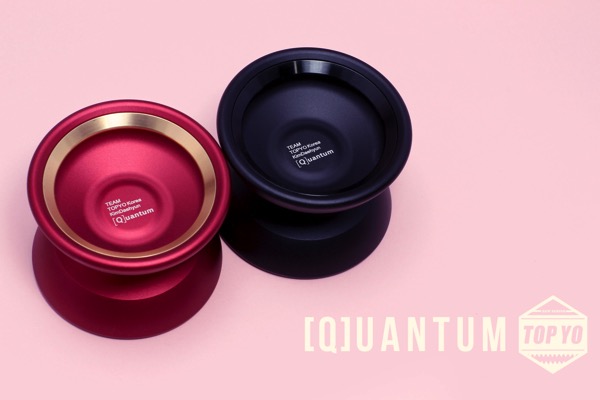 Daehyun is primarily a 5A player, but his new signature model was designed with 1A play in mind as well. His style utilizes a shorter string, fast tech play, and some riskier elements. He worked with the TopYo design team to perfect the Quantum to meet his preferences.
The Quantum is a bi-metal design with a beautiful curved inner fitted 7075 Aluminum ring. It features a larger diameter and has a powerful feel with plenty of stability on the string.
---
PHOTON:
The new Top Yo PHOTON was designed to pay homage to the classic undersized throws of the past while meeting today's high performance standards. It may be small, but it packs some serious power!
This bi-metal yo-yo has a 7003 Aluminum body with some really fat 7075 Aluminum rings. The slightly denser 7075 Aluminum gives the Photon a great weight distribution and some extra durability for those inevitable drops and dings. It plays stable, has excellent spin time, and the small diameter gives it a really fast maneuverable feel in play that is just a joy to throw.
---
IMPULSE S:
With stainless steel rings fitted into a 7003 aluminum body, this is yo-yo has a really special feel! 7003 Aluminum sits right between 6061 and 7075 in terms of strength and durability, so the Impulse S gives you a nice premium feel without that premium price tag. It features a step straight profile and a rim heavy weight distribution that provides excellent speed and stability in play. The bi-metal build of the Impulse S really amps up the stability and spin time without sacrificing any of the speed and maneuverability we loved in the original model. This is a real joy to throw!
https://shop.yoyoexpert.com/products/impulse-s-yoyo-by-topyo?