Thank you to everyone who participated in the Forum Time W/ Gentry Stein event on the YoYoExpert Forums, we had a great turnout!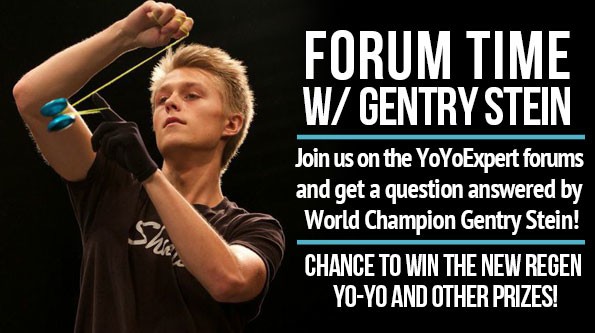 The Gentry Trivia Contest Winners:
1st Place: tschneider
2nd Place: ComparePokoo
3rd Place: Zan
---
[u][b]Favorite Question Contest:[/b][/u]
Gentry's Choice: anmo
http://yoyoexpert.com/forums/index.php/topic,81511.0.html
Random Winner: Lseda3984
http://yoyoexpert.com/forums/index.php/topic,81555.0.html
---
[b]Congratulations to the winners! A PM will be sent through the YoYoExpert Forums with information to claim your prize![/b]
---
A big thanks to Gentry for taking the time to answer all the great questions (He's read them all and is still finishing up answering some!) and a big thanks to YoYoFactory for creating such a great new yo-yo!
Don't Forget! Everyone who purchases the new Gentry Stein Signature Yo-Yo – The YoYoFactory REGEN – has a chance to win a FREE Special Edition Super G!