APE HANGERS STRING:
MonkeyfingeR Vines Ape Hanger Strings are spun in Canada from a secret blend of 100% polyester thread to achieve the perfect combination of tension, weight, and longevity. These strings are designed to be ready to play right out of the bag, no lengthy break in period or string stretching needed to get these strings feeling just right!
The hand crafted Ape Hangers are slightly thicker than standard polyester string and hold their tension and shape well even after hours and hours of play! They move smooth over the hand and have an excellent weight for clean slacks and fast whips!
---
MONKEY SNOT:
With Silicone now the standard in yo-yo play today flowable silicone is for those who want to always be prepared when they need new response or to the player who has extreme response demands.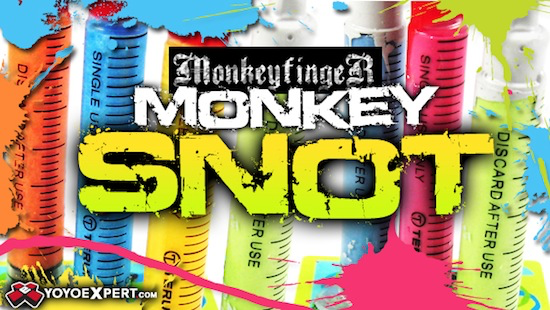 And now with the help of MonkeyFinger you can fill your silicone groove with a custom color. Unleash your creative side, mix and match them. It's all up to you! Each tube of silicone will fill between 9 to 15 throws (Flow Groove Pad Size).
Simply fill the groove in the yoyo with the Flowable Silicone and smooth it out. Wipe off any excess, and let dry. In about 12-24 hours, you'll have a yoyo that binds tightly and doesn't snag (if done correctly).
---
MONKEYFINGER BUFF:
The crazy guys up at MonkeyFinger has something that is crazy cool – they call it BUFF! BUFF breaths new life into your return top collection. New or old this will improve the grinding and appearance of your anodized yoyo.
http://yoyoexpert.com/blog/wp-content/uploads/2017/04/Imonkeyfinger-buff.png http://yoyoexpert.com/blog/wp-content/uploads/2017/04/Imonkeyfinger-buff-1.png
The finish that comes on every yoyo is not the best surface to be performing tricks and grinds with. Just like your car your yo-yo's anodize gets a bit faded with time or just worn a bit. Using the BUFF will brighten up your colors and create a nice slick surface for grinding without creating a residue. Here is how it works.
---
GORILLIUS LUBRICUS:
Gorillius Lubricus is more than just a yo-yo lube, it's a bearing conditioner. It is specially designed to protect against rust, corrosion, and wear and works at any temp.
This product lubricates and refurbishes the steel for a quieter and longer lasting bearing. Just add 1/3 of a drop whenever you clean your bearing and you're good to go!