It's 4th of July! Time to celebrate with another great sale.
For two days (July 4th and 5th) you can score some GREAT stuff at killer discounts.
Spend $50 and get 10% off your entire order.
Or… Spend $100 and take 15% off.
And orders over $150 take a huge 20% off!
We rarely have sales like this!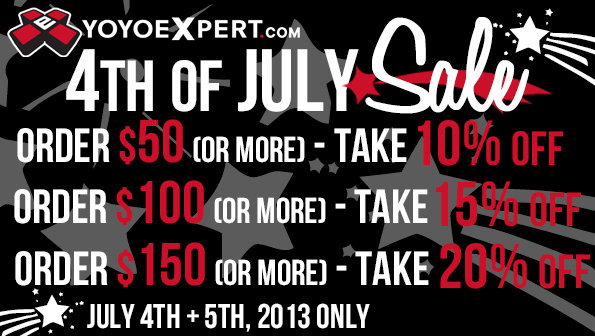 PLUS! We have some real 'SPECIALS' that you can even combine with the normal sale above!
YoYoFactory StarBrites for just $10.
G-Funks for just $40!
YoYoJam Trinity for just $65.
Or get a Free 2A Tutorial DVD automatically when you buy two Raiders!
Have a SUPERB weekend yo-yo players and friends!